本帖最後由 霧峰追風者 於 2019-2-9 10:56 編輯
FMS 開始發報,有機會命名。
TROPICAL DISTURBANCE ADVISORY NUMBER A2 ISSUED FROM RSMC NADI
Feb 090146 UTC.

TROPICAL DEPRESSION TD07F CENTRE 996HPA WAS LOCATED NEAR 16.4S 176.5W AT 090000
UTC. POSITION POOR BASED ON HR HIMAWARI-8 EIR AND VIS IMAGERY AND PERIPHERAL
SURFACE REPORTS. TD07F MOVING SOUTHEAST AT ABOUT 15 KNOTS. MAXIMUM 10-MINUTE
AVERAGE WINDS NEAR THE CENTRE ESTIMATED AT ABOUT 30 KNOTS.


DEEP CONVECTION REMAINS PERSISTENT. ORGANISATION HAS IMPROVED IN THE PAST 6 TO
12 HOURS. CYCLONIC CIRCULATION EXTENDS UP TO 500HPA. SYSTEM LIES IN LOW TO
MODERATE SHEARED ENVIRONMENT WITH STRONG UPPER DIVERGENCE. OUTFLOW GOOD TO THE
EAST. SST AROUND 30 TO 31 DEGREES CELCIUS. DVORAK ANALYSIS BASED ON 0.40 WRAP
YIELDS DT=2.5. PT AND MET AGREE. FT BASED ON DT. THUS, YIELDING
T2.5/2.5/D1.5/24HRS.

GLOBAL MODELS HAVE PICKED UP THE SYSTEM AND MOVE IT SOUTHEAST WITH FURTHER
INTENSIFICATION.
THE POTENTIAL FOR THIS SYSTEM TO DEVELOP INTO A TROPICAL CYCLONE WITHIN THE NEXT
6 TO 12 HOURS IS HIGH.


FORECASTS :
AT 12 HRS VALID AT 091200 UTC 18.1S 176.0W MOV SSE AT 10 KT WITH 40 KT CLOSE TO
CENTRE
AT 24 HRS VALID AT 100000 UTC 20.2S 175.3W MOV SSE AT 10 KT WITH 45 KT CLOSE TO
CENTRE

OUTLOOK :
AT 36 HRS VALID AT 101200 UTC 22.5S 174.5W MOV SSE AT 12 KT WITH 45 KT CLOSE TO
CENTRE
AT 48 HRS VALID AT 110000 UTC 25.1S 173.7W MOV SSE AT 13 KT WITH 45 KT CLOSE TO
CENTRE

THE NEXT TROPICAL DISTURBANCE ADVISORY ON TROPICAL DEPRESSION 07F WILL BE ISSUED
AROUND 090800 UTC.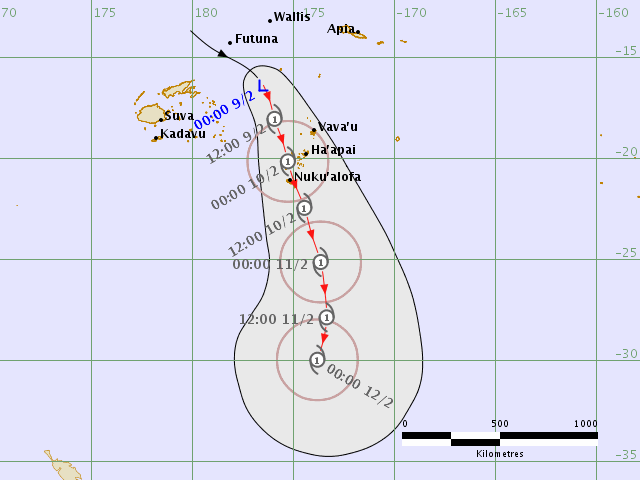 JTWC 18Z認定為副熱帶風暴。
SH, 91, 2019020806, , BEST, 0, 129S, 1792W, 15, 1010, SD, 0, , 0, 0, 0, 0, 0, 0, 0, 0, 0, , 0, , 0, 0, INVEST, ,
SH, 91, 2019020812, , BEST, 0, 139S, 1788W, 30, 1000, SD, 0, , 0, 0, 0, 0, 0, 0, 0, 0, 0, , 0, , 0, 0, INVEST, ,
SH, 91, 2019020818, , BEST, 0, 147S, 1784W, 35, 996, SS, 0, , 0, 0, 0, 0, 0, 0, 0, 0, 0, , 0, , 0, 0, INVEST, ,
SH, 91, 2019020900, , BEST, 0, 156S, 1778W, 35, 996, SS, 0, , 0, 0, 0, 0, 1002, 240, 100, 0, 0, , 0, , 0, 0, INVEST, ,