簽到天數: 474 天
[LV.9]以壇為家II
MFR 編號熱帶擾動第7號"7-20162017"
** WTIO30 FMEE 061826 RRA ***
RSMC / TROPICAL CYCLONE CENTER / LA REUNION
TROPICAL CYCLONE FORECAST WARNING (SOUTH-WEST INDIAN OCEAN)
0.A WARNING NUMBER: 1/7/20162017
1.A TROPICAL DISTURBANCE 7
2.A POSITION 2017/03/06 AT 1800 UTC:
WITHIN 30 NM RADIUS OF POINT 15.1 S / 76.1 E
(FIFTEEN DECIMAL ONE DEGREES SOUTH AND SEVENTY SIX DECIMAL
ONE DEGREES EAST)
MOVEMENT : SOUTH-WEST 7 KT
3.A DVORAK ANALYSIS: 1.5/1.5/S 0.0/0 H
4.A CENTRAL PRESSURE: 1004 HPA
5.A MAX AVERAGE WIND SPEED (10 MN): 25 KT
RADIUS OF MAXIMUM WINDS (RMW) :37 KM
6.A EXTENSION OF WIND BY QUADRANTS (KM):
7.A FIRST CLOSED ISOBAR (PRESSURE / AVERAGE DIAM): 1008 HPA / 900 KM
8.A VERTICAL EXTENSION OF CYCLONE CIRCULATION : DEEP
1.B FORECASTS:
12H: 2017/03/07 06 UTC: 15.8 S / 74.4 E, MAX WIND=030 KT, TROPICAL
DEPRESSION
24H: 2017/03/07 18 UTC: 16.1 S / 72.7 E, MAX WIND=030 KT, TROPICAL
DEPRESSION
36H: 2017/03/08 06 UTC: 16.2 S / 71.5 E, MAX WIND=035 KT, MODERATE
TROPICAL STORM
48H: 2017/03/08 18 UTC: 16.2 S / 70.5 E, MAX WIND=040 KT, MODERATE
TROPICAL STORM
60H: 2017/03/09 06 UTC: 16.3 S / 69.6 E, MAX WIND=035 KT, MODERATE
TROPICAL STORM
72H: 2017/03/09 18 UTC: 16.5 S / 68.9 E, MAX WIND=030 KT, TROPICAL
DEPRESSION
2.B LONGER-RANGE OUTLOOK :
96H: 2017/03/10 18 UTC: 19.8 S / 66.9 E, MAX WIND=030 KT,
POST-TROPICAL DEPRESSION
120H: 2017/03/11 18 UTC: 24.0 S / 61.3 E, MAX WIND=025 KT,
POST-TROPICAL DEPRESSION
2.C ADDITIONAL INFORMATION:
T=CI=1.5+

GEOSTATIONARY IMAGERY SHOWS A CONVECTION THAT REMAINS VERY
FLUCTUATING MAINLY LOCATED WITHIN THE WESTERN AND THE SOUTHERN
QUADRANT DUE TO A MODERATE EASTWARD VERTICAL WINDSHEAR AND A GOOD
POLEWARD LOW LEVEL CONVERGENCE. HOWEVER MICRO-WAVE IMAGERY (0715Z
GCOM AND SSMIS 1342Z) SHOWED SOME SIGNS OF ORGANISATION WITH A
WELL-DEFINED LITTLE CURVED BAND.

THE MINIMUM IS MOVING WESTSOUTHWESTWARD STEERED BY THE LOW/MID LEVEL
SUBTROPICAL RIDGE. FROM WEDNESDAY, THE SYSTEM IS EXPECTED TO SLOW
DOWN AND CURVE ITS TRACK WESTWARD BEFORE, FROM FRIDAY, TO ACCELERATE
AND TO BEND SOUTHWESTWARD WITHIN THE WAKE OF THE RESIDUAL ENAWO
CLOCKWISE CIRCULATION.

ON THIS TRACK, ENVIRONMENTAL CONDITIONS REMAINS MARGINALLY BEFORE TO
BECOME UNFAVOURABLE FROM THURSDAY. LOW LEVEL SUPPLY IS VERY EFFICIENT
POLEWARD BUT WEAK EQUATORWARD. IN THE UPPER LEVEL, THE SYSTEM IS
LOCATED ON THE NORTHERN EDGE OF THE SUBTROPICAL RIDGE WITH A MODERATE
EASTERN VERTICAL WINDSHEAR. ON TUESDAY AND WEDNESDAY, THE SYSTEM
SHOULD MOVE BENEATH THE AXIS OF THE UPPER LEVEL RIDGE BUT FROM
THURSDAY, A ROSSBY WAVE BREAKING IN THE VICINITY OF RODRIGUES ISLAND
SHOULD INCREASE GREATLY THE VERTICAL WINDSHEAR ON THE SYSTEM.=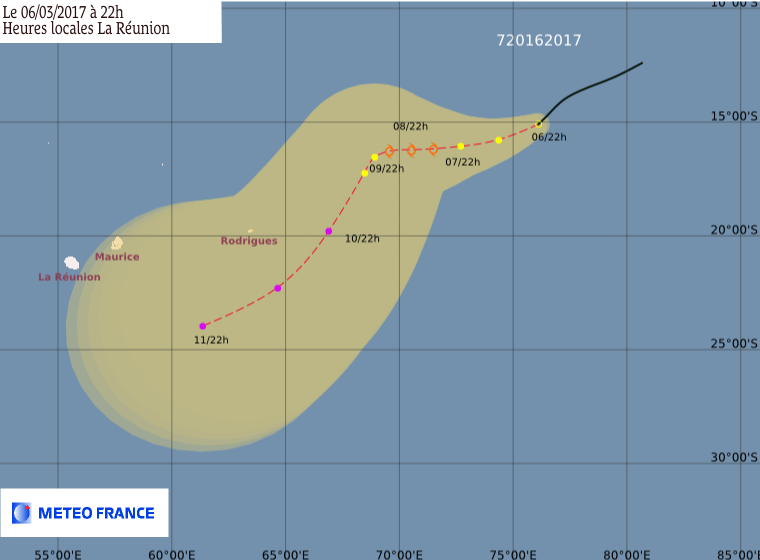 JTWC 評級提升"MEDIUM."

(1) THE AREA OF CONVECTION (INVEST 97S) PREVIOUSLY LOCATED
NEAR 12.9S 79.9E, IS NOW LOCATED NEAR 14.8S 76.3E, APPROXIMATELY 500
NM SOUTH-SOUTHEAST OF DIEGO GARCIA. ANIMATED MULTISPECTRAL SATELLITE
IMAGERY AND A 051340Z SSMIS 91GHZ MICROWAVE IMAGE SHOW IMPROVED
CONVECTIVE BANDING WRAPPING INTO A CONSOLIDATING LOW LEVEL
CIRCULATION CENTER. THE DISTURBANCE IS LOCATED IN AN AREA OF GOOD
UPPER LEVEL OUTFLOW, WARM SEA SURFACE TEMPERATURES, AND A NARROW
REGION OF LOW VERTICAL WIND SHEAR (10-15 KNOTS). GLOBAL MODELS SHOW
THE DISTURBANCE TRACKING WEST TO SOUTHWESTWARD WITH FURTHER
DEVELOPMENT EXPECTED BEYOND 48 HOURS. MAXIMUM SUSTAINED SURFACE
WINDS ARE ESTIMATED AT 20 TO 25 KNOTS. MINIMUM SEA LEVEL PRESSURE IS
ESTIMATED TO BE NEAR 1006 MB. THE POTENTIAL FOR THE DEVELOPMENT OF A
SIGNIFICANT TROPICAL CYCLONE WITHIN THE NEXT 24 HOURS IS UPGRADED TO
MEDIUM.